"There are two ways of spreading light: to be the candle or the mirror that reflects it." ~ Edith Wharton

This is Kate. Kate likes to think of herself as a Neo-Renaissance Woman. When she is not ridiculously busy being a wife, mother, and friend, she dabbles in various arts and sciences. This is where you may find out about some of those dabblings.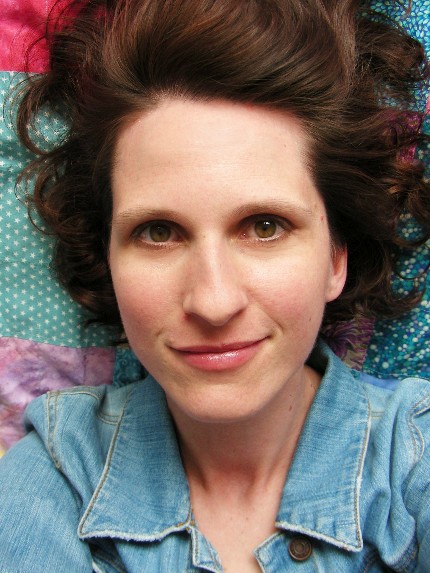 Kate on a quilt of many colours that she made herself.
Kate grew up and still resides in Calgary, Alberta, Canada. She is certain that the cold and miserable winters are partially to blame credit for her lifelong passion for creating things. Well, that and maybe her hands-on ancestors (farmers, invisible menders, cooks, builders, artists, and even a rumored Contessa – who was likely more autocratic than anything, but oh, well).
She was shy and introverted as a child, often using her creations as a means of connecting with people. Sometime around middle school, she began to blossom into the outgoing multi-tasker that she is today. In later years, she studied a variety of subjects, obtaining degrees in Zoology and Psychology, while minoring in Photography. She fully believes in embracing life-long learning.
Kate has held jobs as gopher, waitress, sales clerk, receptionist, intern, and behavioural therapist (among others) before finding her niche as an environmental educator / park interpreter. Her current interests include – but are not limited to – parenting, photography, gardening, yoga, sewing, DIY projects, being good to the environment, playing with essential oils, and napping.
"KateWares" is the name of her (unofficial) home-based business. It's a catchall for the many "arts, crafts, and treasures" that she enjoys creating. It is also a play on words, as her legal name is actually "Kate Ware". Note: you have no idea how many (blank)-ware jokes there are. Just ask her husband Dave, aka "Tupper".
This site is her attempt to share herself with the blogosphere, and get herself back to creating after taking a necessary break for mommy-ing. She is also pleased that this will be the last time she refers to herself in the third person.
For more information about her roots, feel free to check out the following pages:
Save
Save
Save
Save