Cranky Pants
Cranky Pants
A little while back, I came across some fabulous knitting via Pinterest.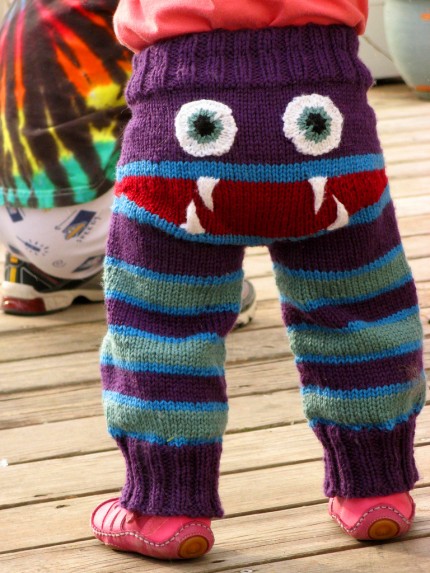 Entitled "Monster Bum" and posted by WoolBC on KnitHacker, I decided that I would lovelovelove to have a pair of these for myself – although I wasn't too keen on how much knitting that would involve.
So, I decided to take a shortcut. I picked up a pair of "leisure pants" in grey velour that I found on sale whilst I was out and about. I then dug out some of my kids' old pajamas in similarly plushy fabric. And then I just started playing.
Wheee!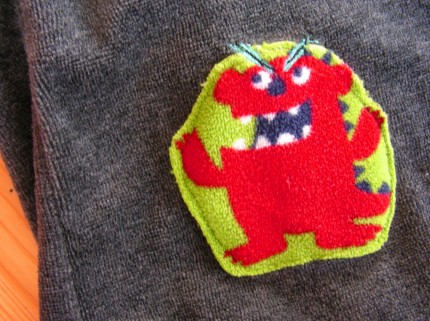 At first, I though it might be fun to have a bunch of cute critters with added "angry eyebrows" all over my pants (seeing as most of the PJs were covered in dogs and monkeys and snowmen and such), but then I came to the conclusion that I really just wanted that mad face on the bum. So, that's what I aimed for next. With the fabrics I had on hand. Which was tricky. Anyhow, this was the result.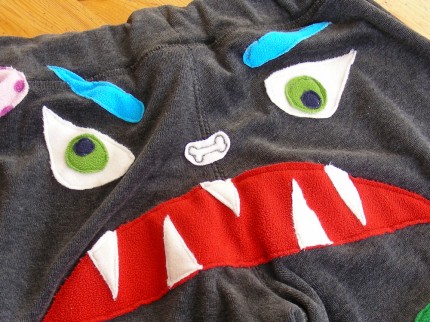 The face turned out okay (especially with having to work around all those critters – i.e. behind each iris is a dog footprint, and the teeth were cut out of the spaces between doggies, etc.) I felt like I had to do a little more embellishing to balance things out – like adding a dog bone nose, a "girlie" bow, and the word "grr". Finally, I ended up adding one "angry monster" to the leg, and this is what they look like now.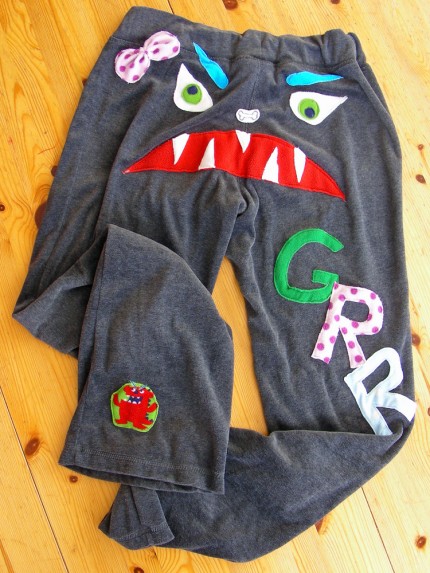 They are super comfy to wear, and help me poke a little fun at myself when I'm in a downright crappy mood. I'm sad they're not quite as colourful as the originals, though – I think I might take another swing at this idea using some bright colours for the pants, if I can find some critter-free solids on the cheap, that is.
Now, somehow in the crafty group I'm in, we all decided that the pants would be a fun project to do individually. I heard some cool ideas floating around about what the other ladies were going to make, and I am excited to see the results. And I REALLY love the idea of taking a photo of 5 grown women wearing different "cranky pants" (or "crabby pants" or "pissy pants" or whatever) at the gym!!! We're all pretty busy with life and such, so I'm not sure when or if that will ever happen, but if it does, I'll be sure to post it here.
How about you? Would you ever wear a pair of pants like this? How about in public? I don't know if I'm quite there yet, but I do know that my kids really appreciate them. Here's to wallowing in crankiness! Temporarily, at least. 😉