I don't know about you, but I'm lazy when it comes to dealing with all the garden tomatoes. Firstly, where we live, it's rare that they're all lovely and ripe before the first frost. THEN, most recipes for sauces or whatever require lots of prep work: blanching, coring, seeding, peeling, etc. etc. etc. I remember the one year we attempted to use a food mill… and then promptly donated it to charity. What a gong show! And a messy one at that!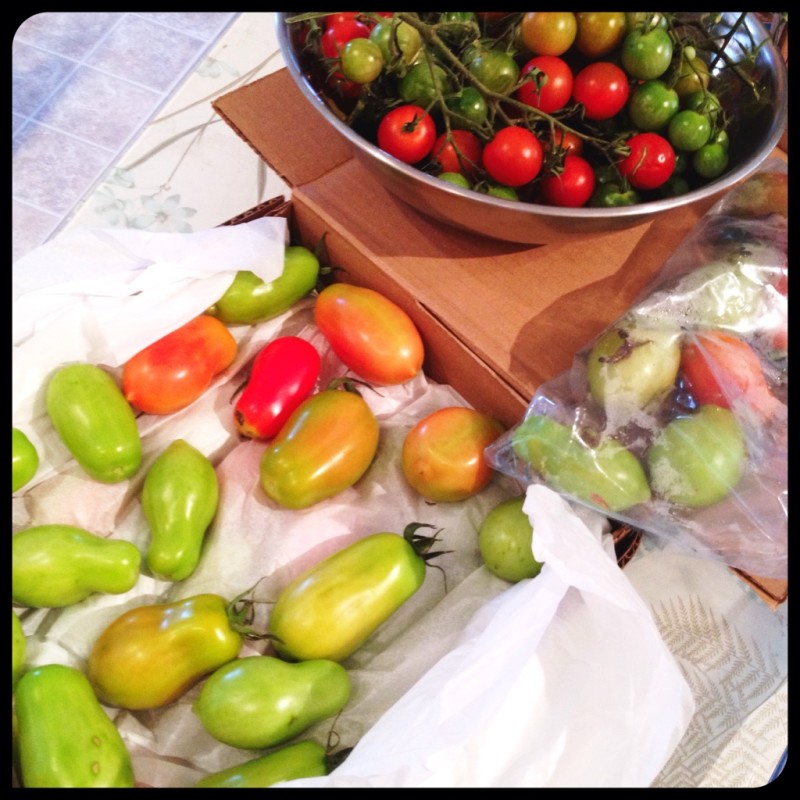 Ripening tomatoes indoors. My favourite method: layering between tissue paper, non-touching, in a closed pizza box. Check every couple of days.

This year, I was in no mood for it all, so I went on a Google search for some ideas. What I found was this Ina Garten recipe that just changed the tomato game forever! Using it as a starting point, I came up with this soup, making use of the things I enjoy eating and had handy.
After collecting a rather large bowl of ripe tomatoes (when I found ripe ones, I'd pop them in a bag in the fridge until I had a large bag full of them), I decided to roast them. Intact. What a concept!!! Just wash, slice, lay on a baking sheet, drizzle with oil, dash with salt and pepper, and bake. Tah-dah! No fuss, no muss. Then it was a matter of layering flavours: sautéed leek and garlic, fresh thyme and basil, a dash of red pepper flakes, and finally some roasted pine nuts to make it creamy – without cream/flour – and because what else could possibly go better with tomatoes and basil???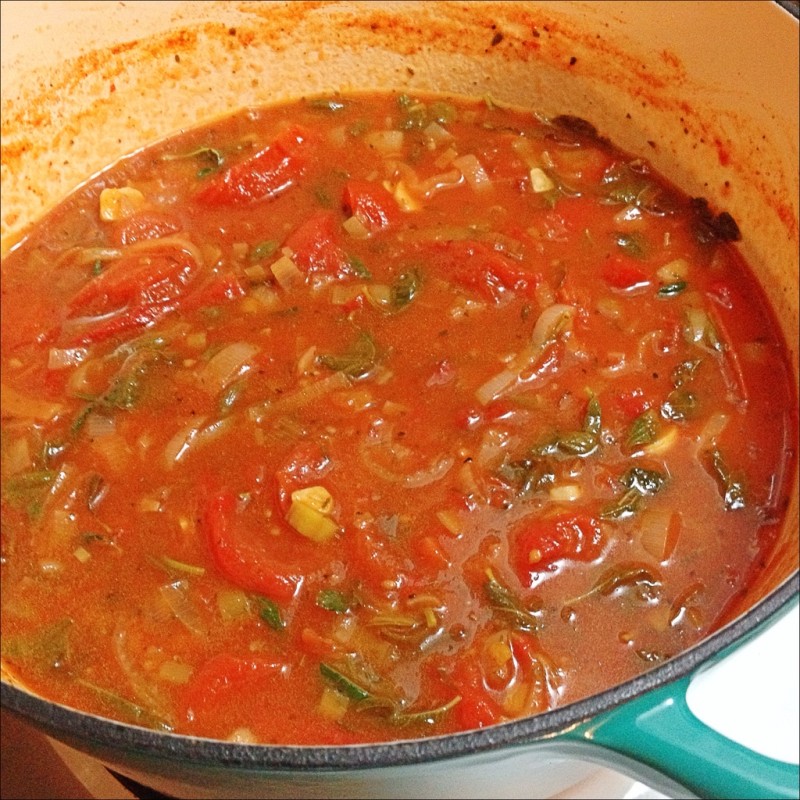 I warn you – this soup smells SO good as it is simmering, you might just have dreams about it for days to come. 😉 And, if I had chopped my tomatoes a bit smaller, it would have also made a lovely "rustic" soup without all the blending…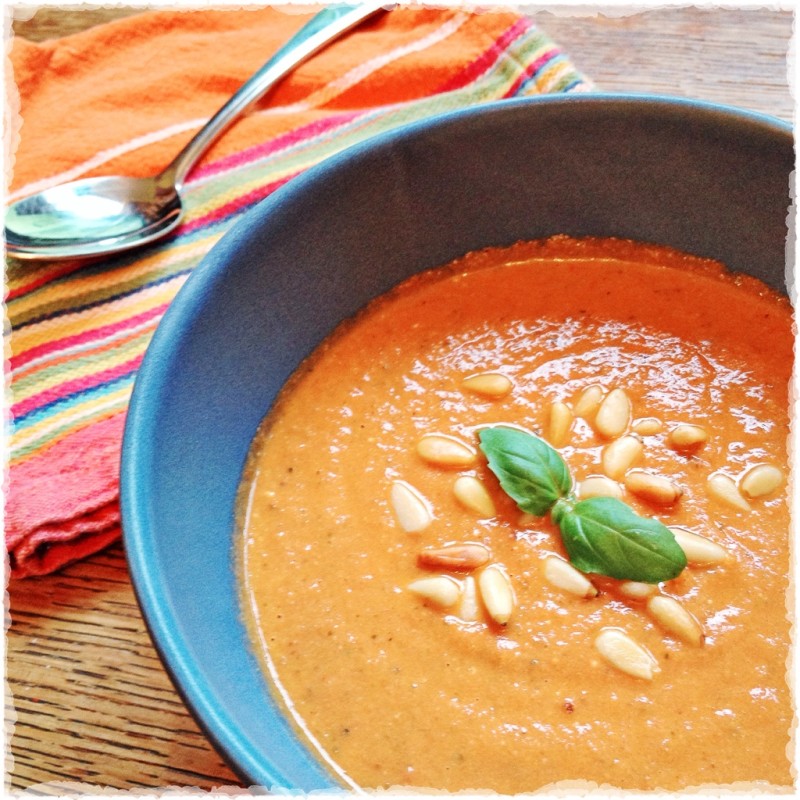 The finished product – oh, yum!!! Maybe today I'll work on a delicious little sandwich to go with it. 😉
Now… I added a little bit too much spice to my first batch, which required me to make a second pepper-flake-free batch to "mellow" it all out, so be careful. Unless you enjoy that kind of thing – then knock yourself out with those pepper flakes! But I'm happy to report that I've now got some in reserve, if ever you pop by for a visit. <3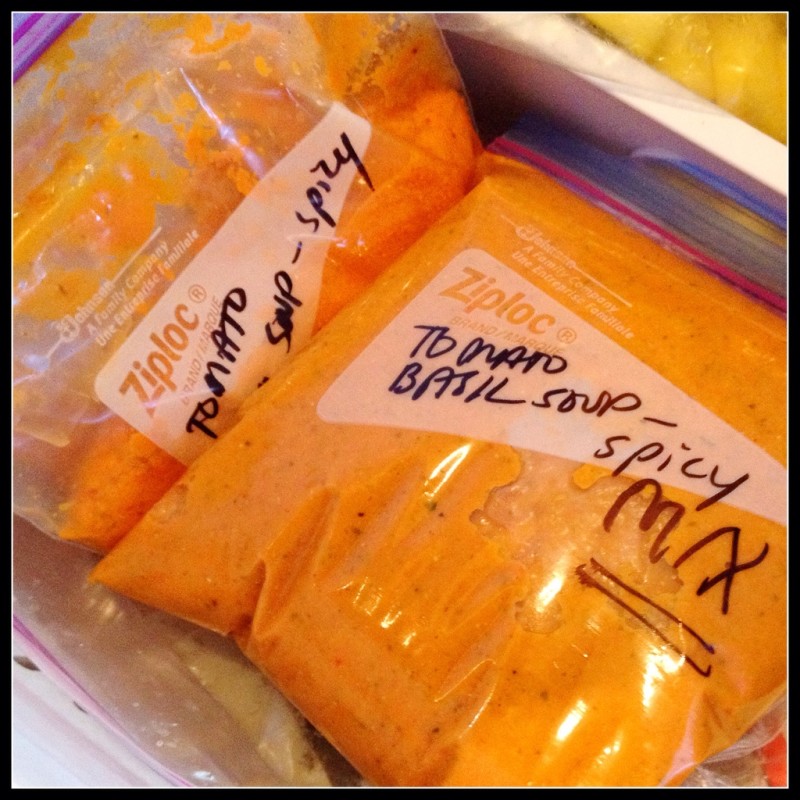 So, here's my attempt at a recipe. Remember, I'm not one for a lot of measuring and such, so it's a best guess-timate. 😉
Roasted Tomato Soup With Basil & Pine Nuts
6-7 cups (or 6-7 large) washed and chopped tomatoes (I used cherry & plum for the first batch, large field for the second)
2 tbsp olive oil
good dash salt & pepper
1 large (or 2 smaller) leek(s), washed, dark greens removed, sliced lengthwise and then into half-moons
4 cloves garlic, sliced
2 tbsp olive oil (though, I tried 2 pats butter the second go 'round, and it was lovely too)
1 small (398ml/14oz) can "no salt added" tomato sauce (I used Hunt's brand)
1 box (1L/32oz) organic vegetable broth (I used Imagine brand, low sodium version)
large spring fresh thyme
as much basil as you can muster (Ina calls for 4 cups fresh leaves, but I used about 2 cups fresh + a bit of paste we had in the fridge)
dash red pepper flakes (Ina suggests 1/4 tsp, so be careful)
3/4 cup pan-roasted pine nuts (plus a few for garnish)
Wash and slice your tomatoes into wedges (I halved the cherry tomatoes, quartered the plum, and eighthed the large field). Lay on a baking sheet, drizzle with olive oil, and spice with salt and pepper. Mix by hand and spread into a single layer. Bake at 400F for 45 minutes, NO stirring.
Meanwhile, in a heavy-bottomed soup pot (I looove my Cuisinart Dutch oven, which I got in a ridiculous 70% off sale!!!), sautée the leek and about 3/4 of the garlic in your chosen fat (oil or butter) on medium-low heat. Cook until it starts to go golden just a little bit. Stir in your veggie broth and tomato sauce, adding your thyme sprig, 3/4 of the basil, and the red pepper flakes. Add the entire pan of roasted tomatoes – juices, caramelized bits and all! Bring to a boil, then reduce to a simmer. Let simmer uncovered for one hour.
Remove the thyme stem. Add remaining garlic and basil (except for a few leaves for garnish). Stir and let cool a while. (Why? To add some "fresh" garlic and basil flavours to the mix… and so you don't burn yourself when blending.)
In a dry pan, roast the pine nuts on medium heat, stirring often, until golden.
In a blender, put 1/4 cup of pine nuts and about 3 cups of soup. Cover and blend. Set aside in a large bowl, and repeat 2 more times (or until all of the ingredients have been used). You can then reheat the soup in your empty soup pot, and serve with your reserved basil leaves and pine nuts for garnish… or let it cool even more and put it in the fridge/freezer. How easy was that?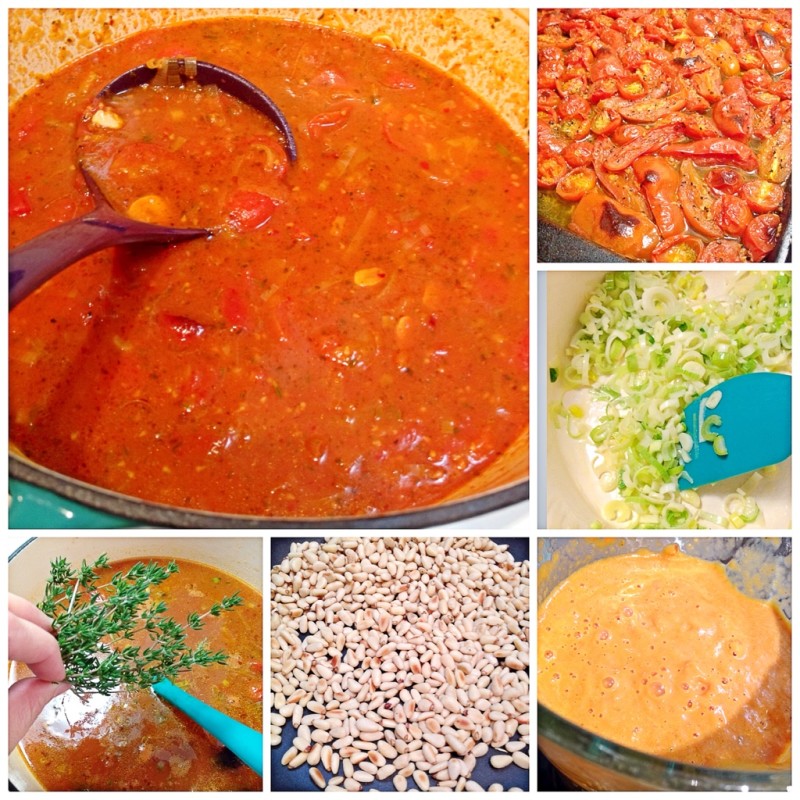 So. By using olive oil instead of butter, and pine nuts instead of cream/flour to make it creamy, it is now a totally vegan and gluten free soup (as long as your broth and tomato sauce are, of course). Pretty cool, huh? I tell you, I'm totally rocking it in the kitchen this week!!! =)
UPDATE: Within the first month, three of my friends have tried making this recipe and reported back that they LOVED it! Hurrah!!!