Last month, I came across an image in Pinterest that very much caught my eye…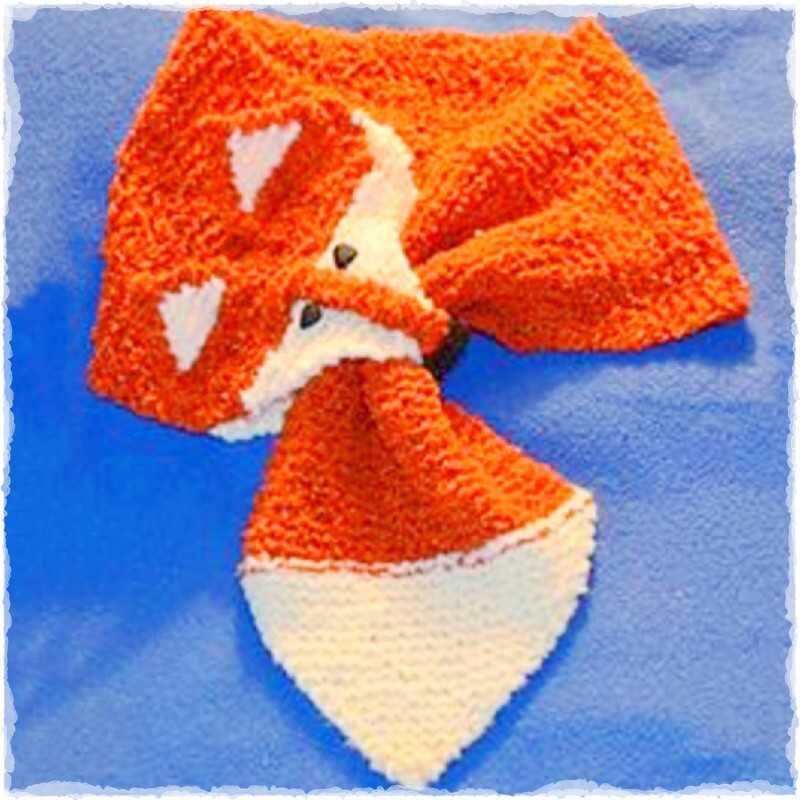 It was a knitted, self-looping fox scarf, the pattern of which appears on Ravelry. I decided it was finally time to make myself one of these beauties, but I also wanted to make it more "me"… So, while I was fervently attempting to sell some of our old toys before Christmas (I managed to Kijiji all but one lot, recouping over $500 of toy money for new Christmas gifts), I picked up some appropriately-coloured yarn and mulled over foxy scarf ideas.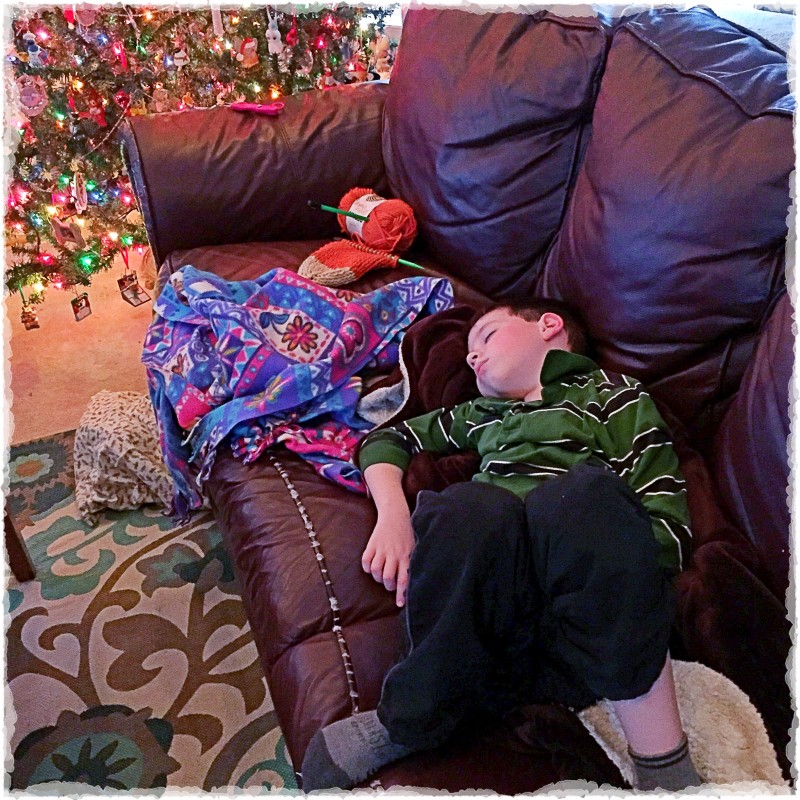 And then I got a call from school one day – Monkeyboy Junior Jr. was having another bad belly day and needed to come home. So, I dropped everything, picked him up, and snuggled my poor little guy… until he fell asleep. Hmmmm. Wanting to keep a close eye on him, but not be too loud… what to do, what to do? I decided it was the perfect opportunity to experiment with my new yarn and start building my scarf.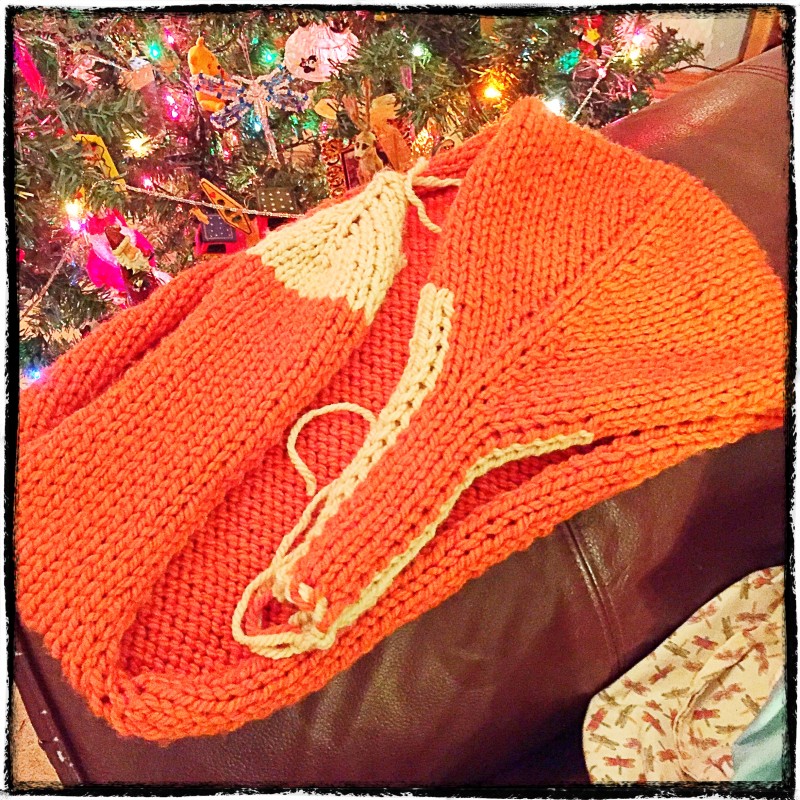 I decided that first of all, I wanted a smoother texture, so I chose to alternate knit and purl rows. Being a former Natural History Interpreter, I also wanted the fox to me more "true to life", so I changed how the facial colouring was done. I also made the scarf body far wider than the "original", and tapered both the snout and the tail differently. As you can see, Monkeyboy Junior Jr. was asleep for several hours…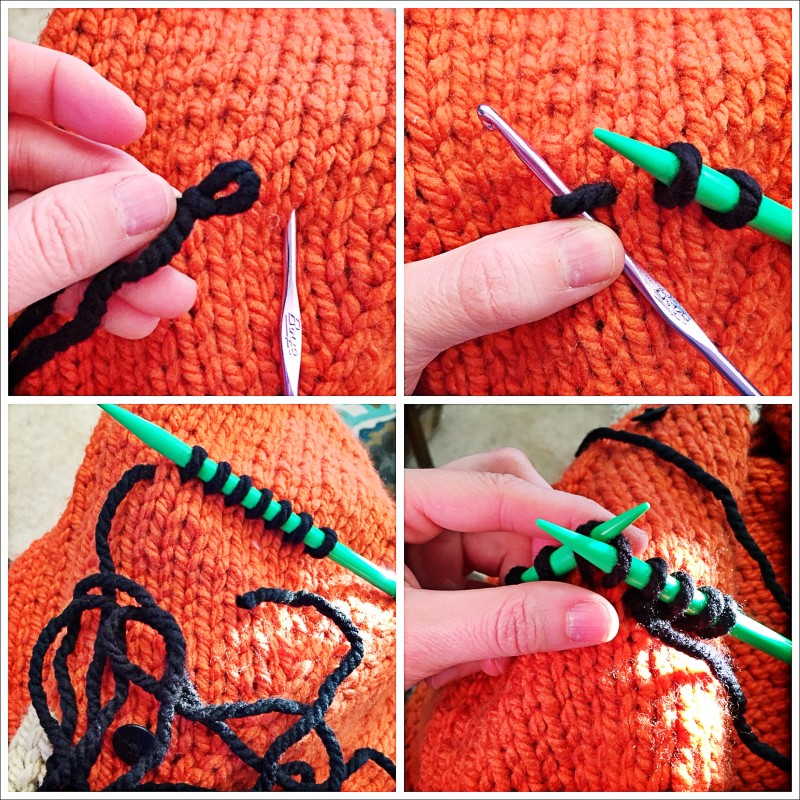 A couple of days later, Monkeyboy Junior Jr. was finally feeling better again, so I got to work on adding some details. I decided to add the ears directly to the body, using a crochet hook to help me "thread" the yarn, and again, to make them more "true to life" (which meant adding two colours instead of just one).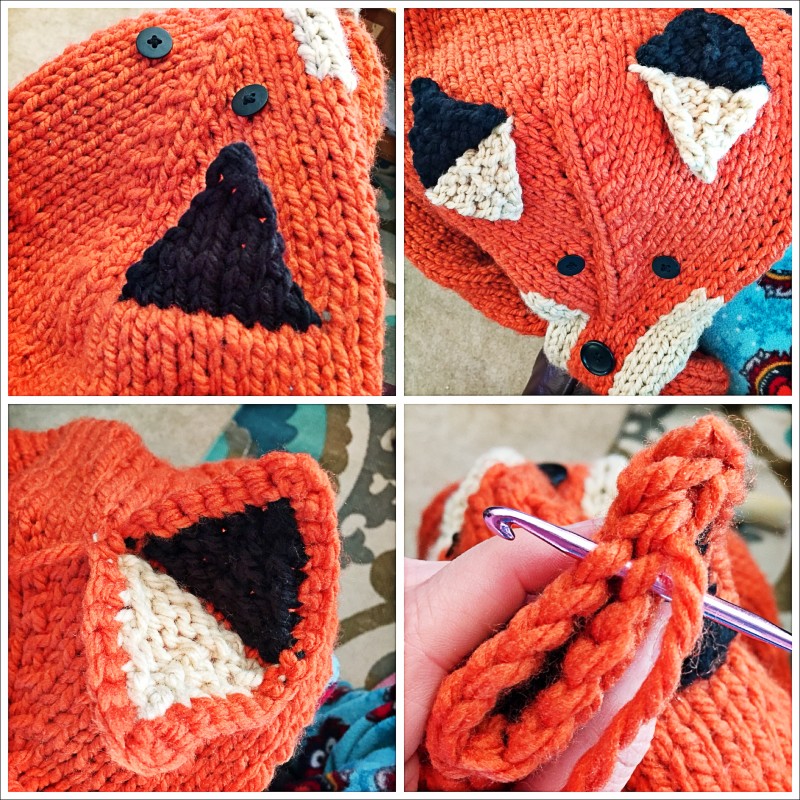 I crocheted the dual-coloured ear flaps together, threw on some buttons, and stitched back the snout (to form a "grippy" mouth for the tail)… and violà!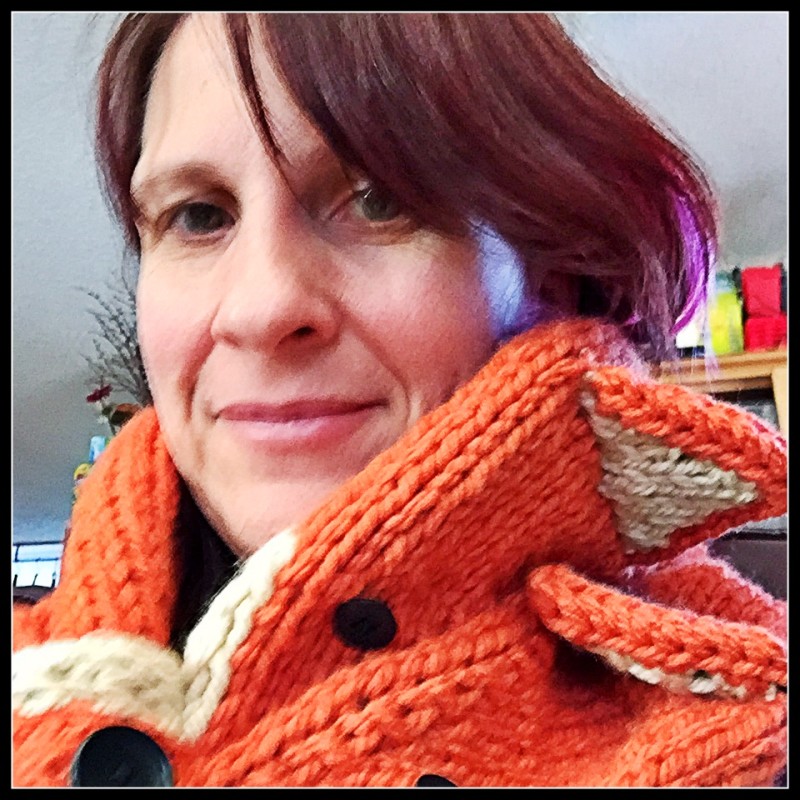 So far, so good! Except I really wanted to add little striped sox to my fox (it's a very "me" thing), and I had to deal with the inevitable "curling up" that happens when you knit+purl rows…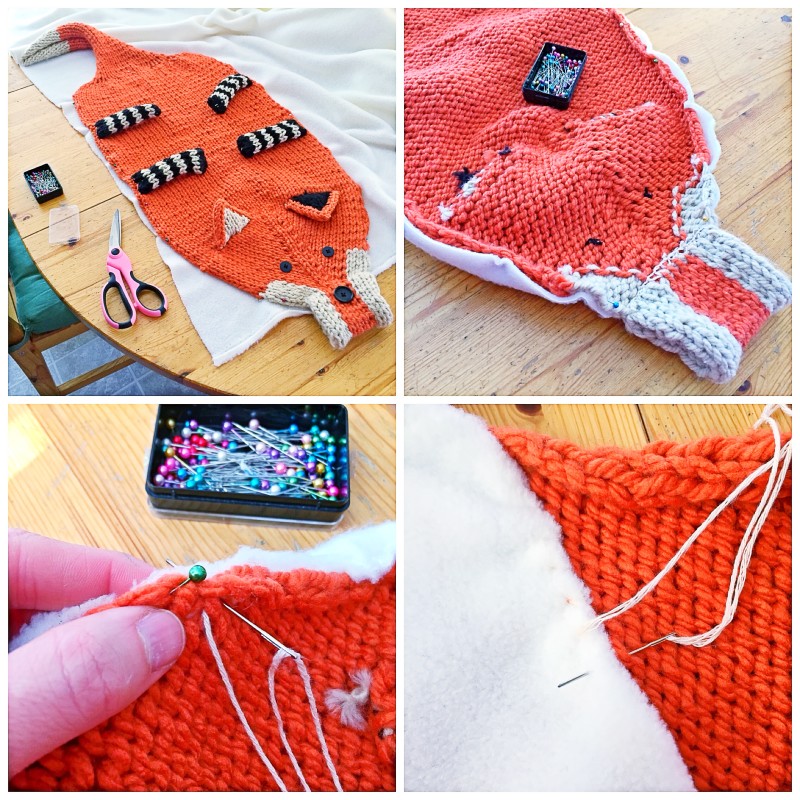 After attaching the sox, I laid the scarf as flat as possible on top of some polar fleece and pinned it in place. I cut out the fleece for the lining, laid the pieces right sides together, and sewed them together with some embroidery thread – leaving a gap at both snout and tail to be able to turn it "right-side out" when I was finished…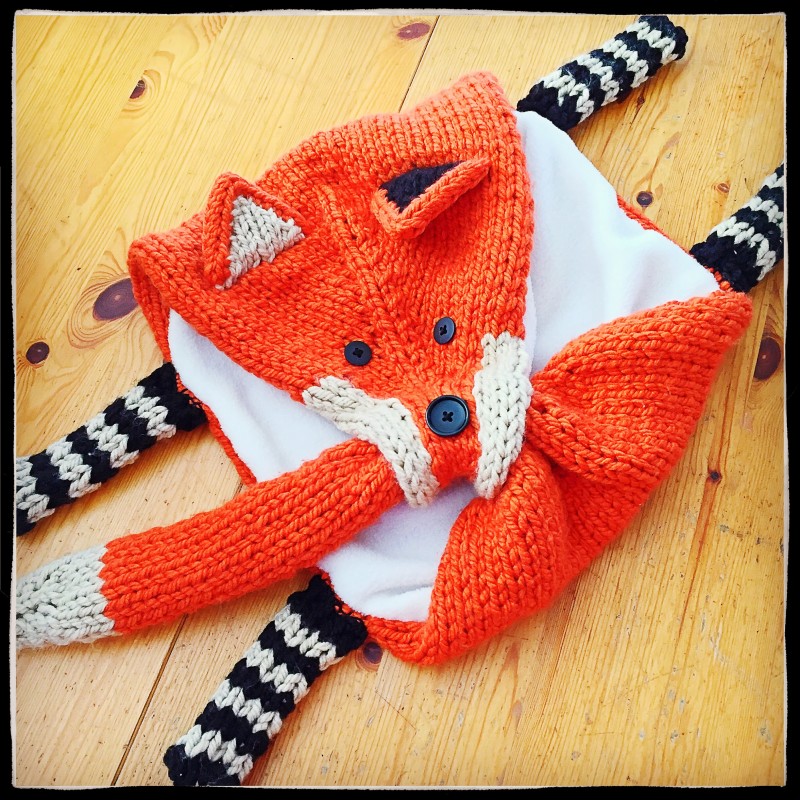 I tacked down the open ends, and… isn't that the cutest thing ever?!?! Smooth on the outside and super soft on the inside, adorable with the detailed dual-coloured ears and facial markings, and quirky-personalized with stripy sox! I was SO happy!!!
Except… Except for one thing… One little thing…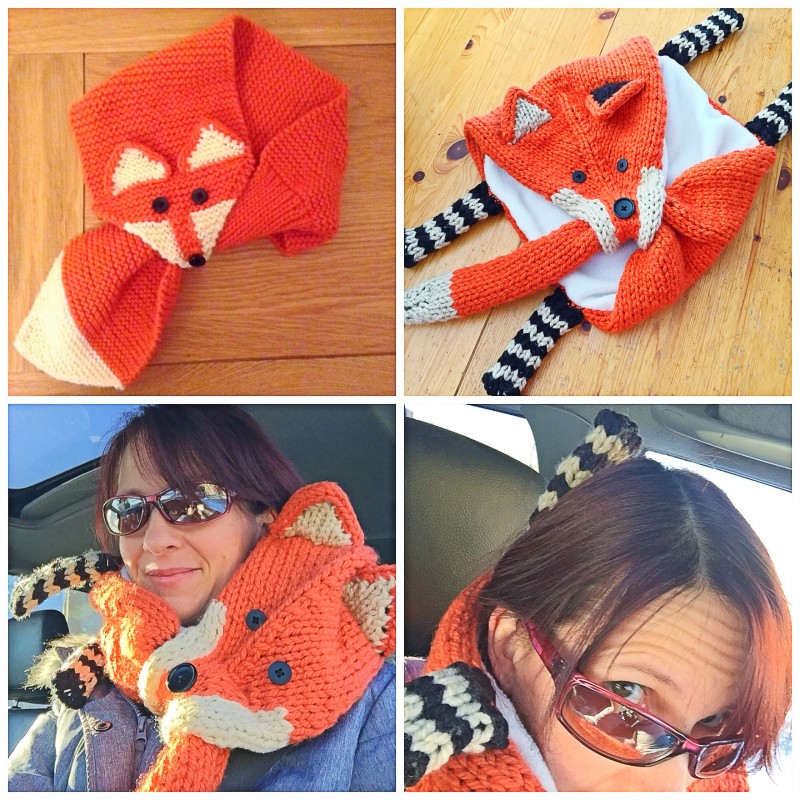 The darn sox had a will of their own! They would either stick up at strange angles (totally not "reading" as sox), or they would get stuck on the inside of the scarf, bulking it up and making it not as soft. So, I did what any modern-day artisan might do – and I polled Facebook about what I should do. The overwhelming response was to ditch the legs/sox. Which I tried – I honestly tried! But I missed them too much, so I went with Plan B instead – which was to make the sox longer and attach them directly to the body.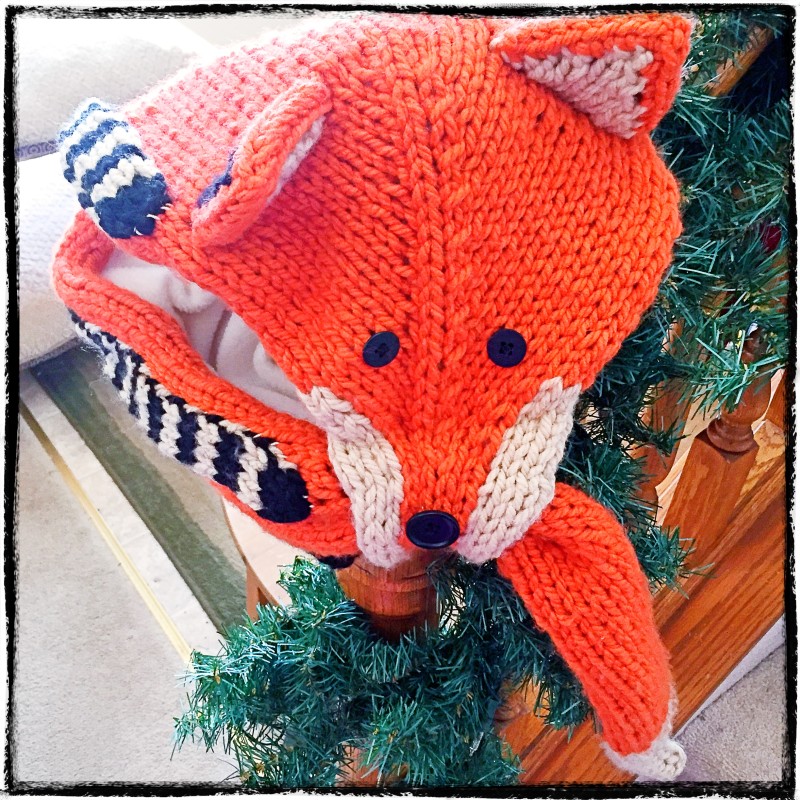 Perfect!!!
A little too perfect, perhaps. After the Facebook poll, people were asking me to make more for them… but the time! And the effort! And the cost! I don't know how I could make it "worth my while" without charging a lot of $$$. So, we'll wait and see if anybody is really serious, I guess. Meanwhile, I'll just wear mine all the time. 😉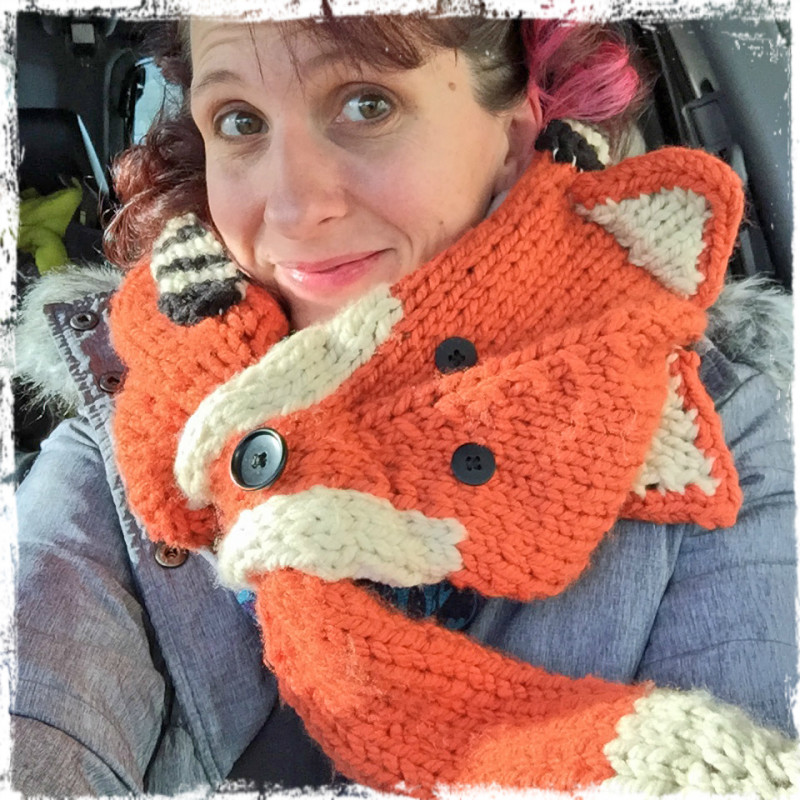 Although… I did decide to make a simplified scarf for my dear friend Thrya – as both a Christmas gift and a "thank you" for all of her help with my home this fall. She got an "IOU" as her gift, and then we made a plan after the insanity of Christmas had passed.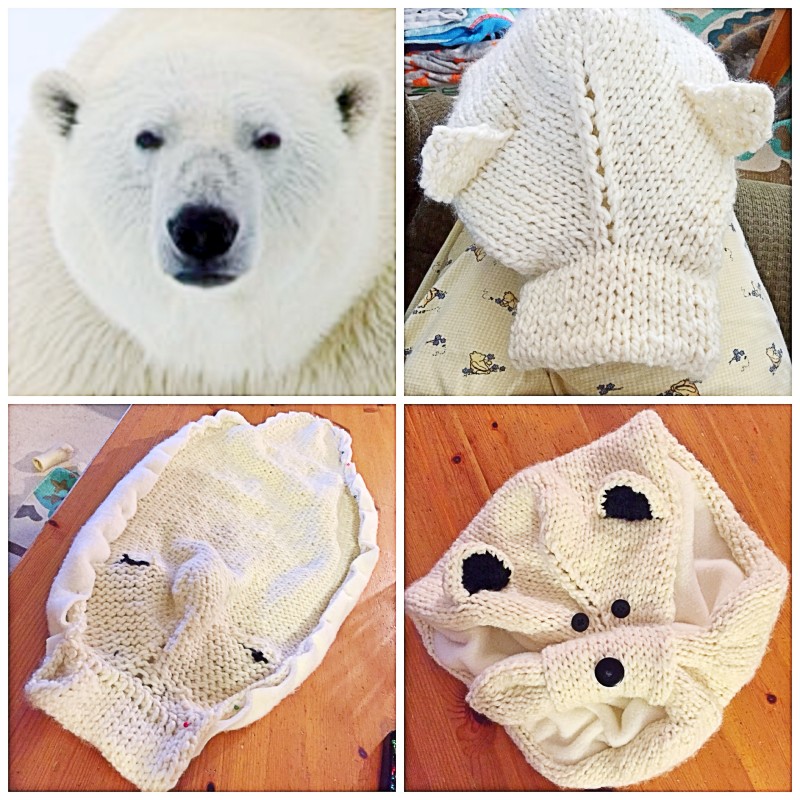 We decided to go for a more "neutral" coloured animal – like a polar bear. I adjusted my pattern a bit (shorter + more rounded tail, rounded ears, no legs) and am fairly happy with the results (although it looks more "teddy bear" than "polar bear" to me, but ah, well).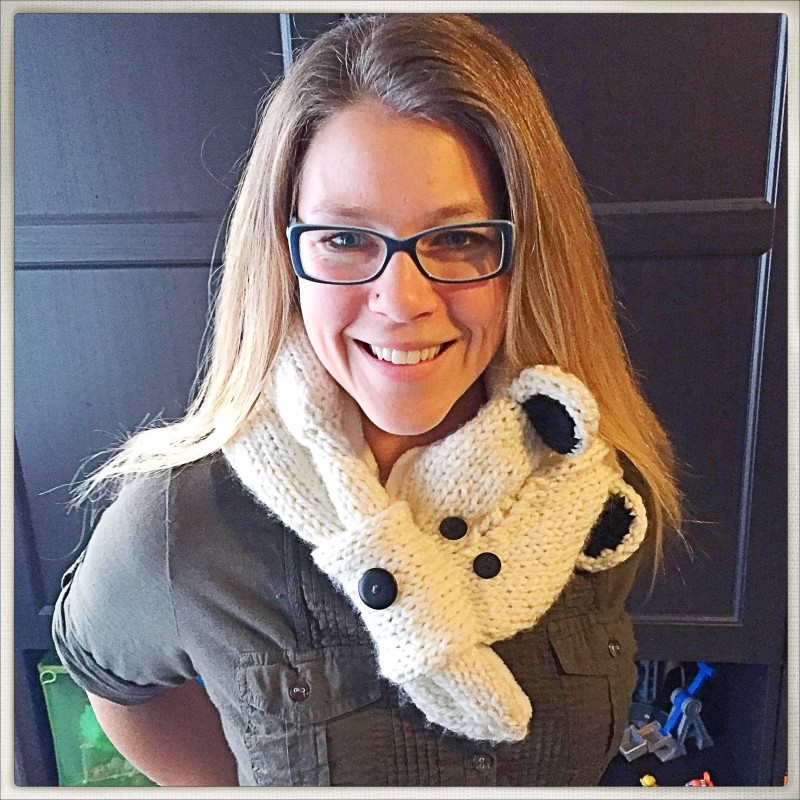 What a couple of cuties!
Anyhow. That is the story of my scarf adventures. I hope y'all are having a fantastic start to the 2016 year! Happy stitching!!!