Welcome, welcome, welcome to the Big Green House…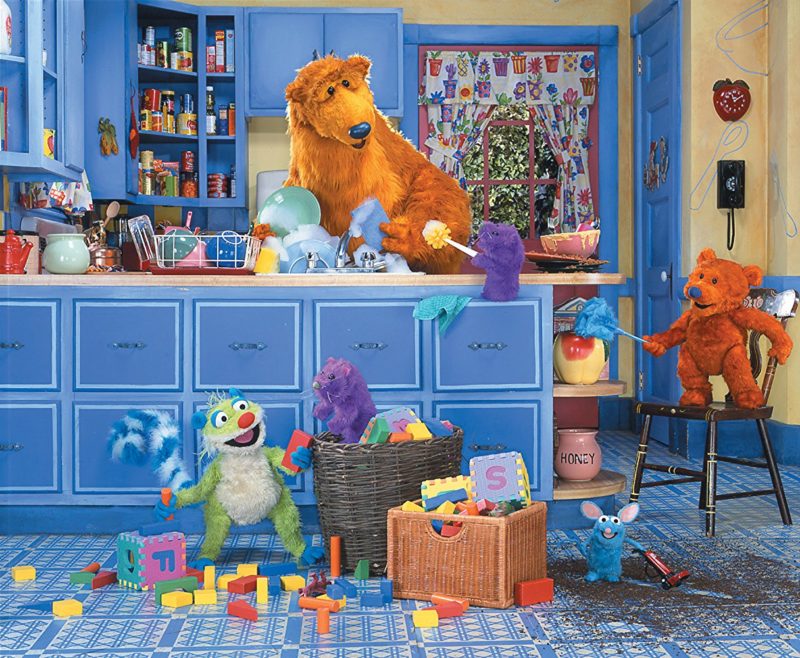 Ooops. Sorry, Bear. Sometimes all those years of watching children's programming sneak up on me in the strangest of ways. 😉
As I was saying… welcome to our new house!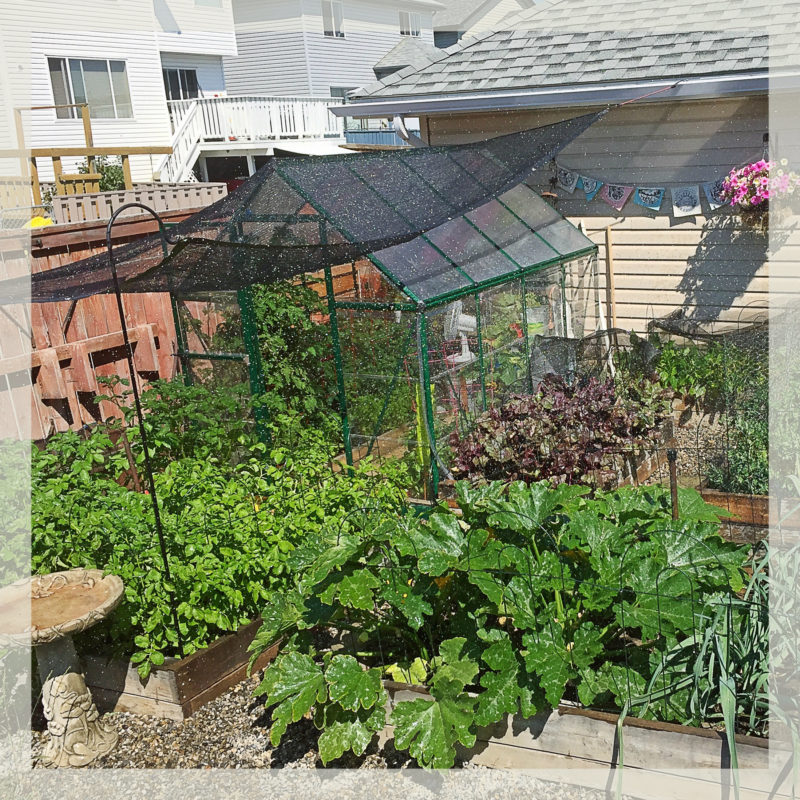 As you can see… after years of talking about it, this spring we dove in and finally purchased a greenhouse!
In reality, it's actually not very "big" at all in the grand scheme of things – we went with the 6'x8′ version of the Palram hybrid, so that we wouldn't have to disrupt too many of our already existing garden boxes, and so we could see whether or not we liked it / it was useful before we invested further. But it *is* green. 😉 And thus far, I'd have to say it was a great choice!
Two years ago, we focused on replacing the 10+ year old garden boxes…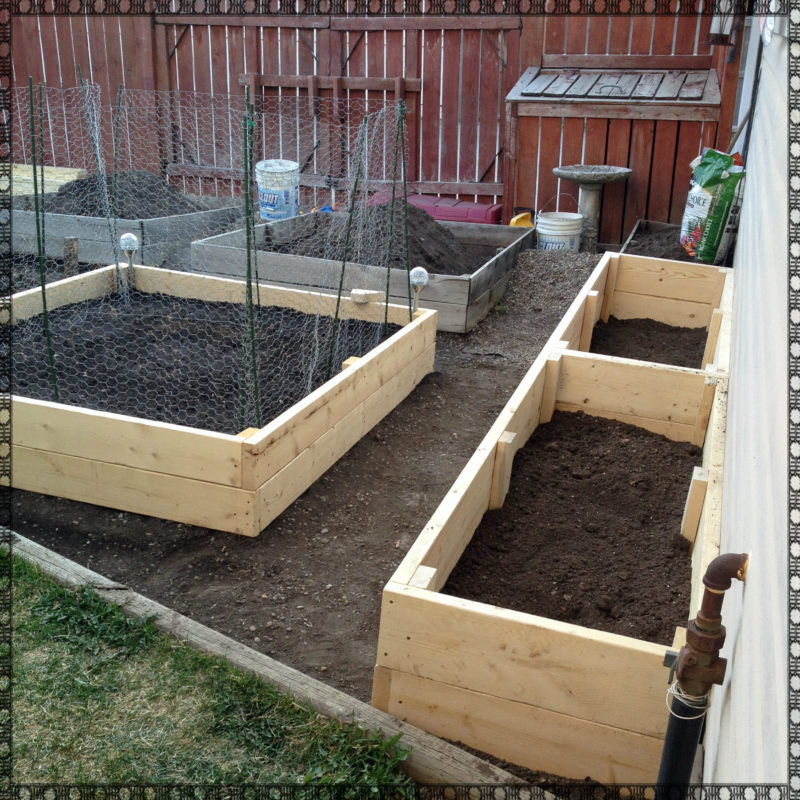 Last year, we cleaned up the path between the boxes – weeding deeply and adding new fabric barriers and gravel. I then removed the "garbage can" jut-out from the fence, as we had been switched to giant bins that no longer fit in there, and the space was just being wasted…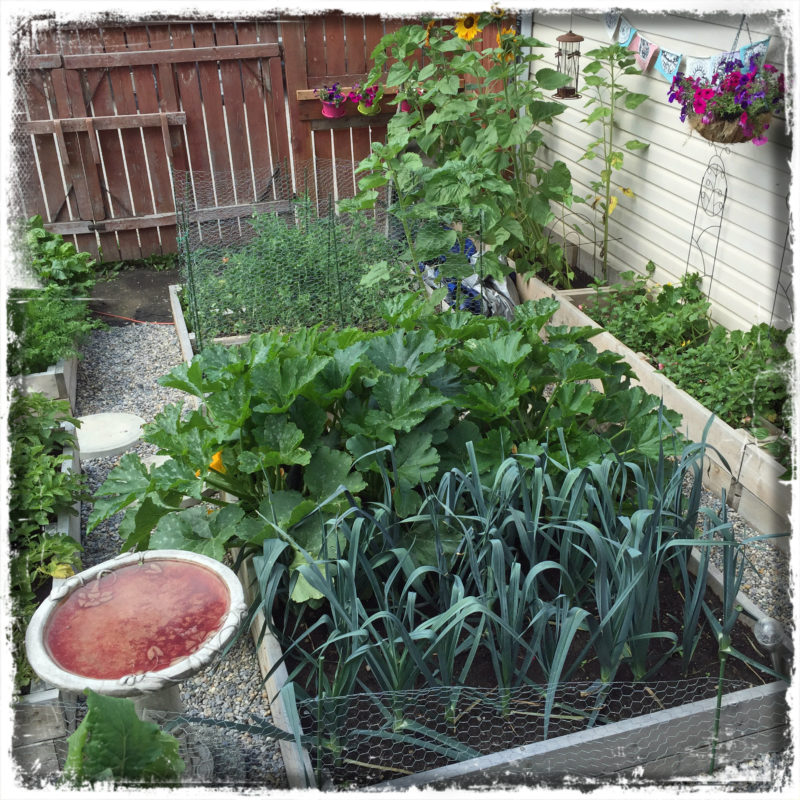 This year, we removed (and reused elsewhere) one of the boxes by the garage plus half of one of the main garden boxes… to make room for our new greenhouse. All in all, it took about a day to level the site and build a base (we used 4″x4″s), and then another to put the greenhouse together. We added a louvered window and automatic vent arm to the basic kit, to increase air flow (and later, a fan to help the air move on really hot days).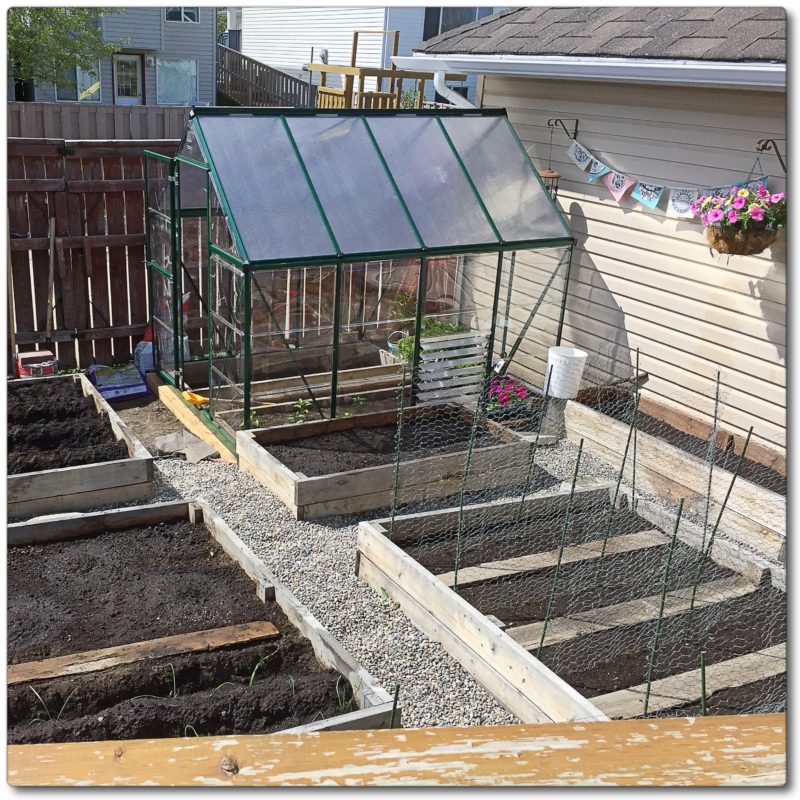 I then repurposed one of the boxes we had removed as two low beds for the greenhouse, and added a floor using 2″x6″ cedar boards. A couple of inexpensive IKEA shelves, two water bins, a little soil amendment, and we were ready to plant! Though, as we had started late in the season, we opted for mature plants rather than seeds.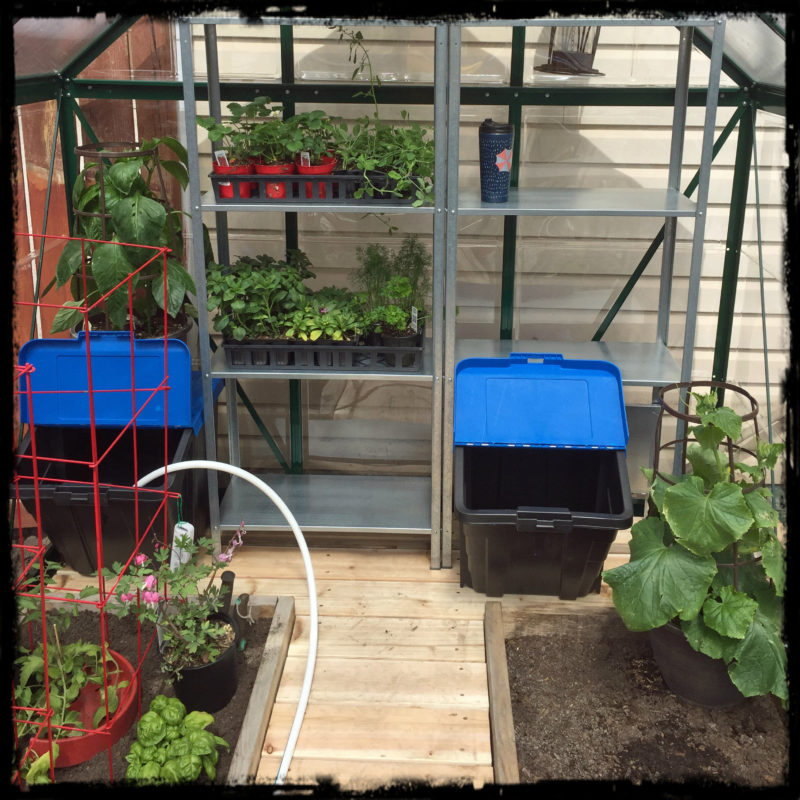 Three tomatoes, five hot/bell peppers, four basil clumps, one cuke, and one giant bell pepper. (Plus storage of a couple of new perennials awaiting transplant, and a few cuke seeds – to see how long it would take them to mature.) And away we went!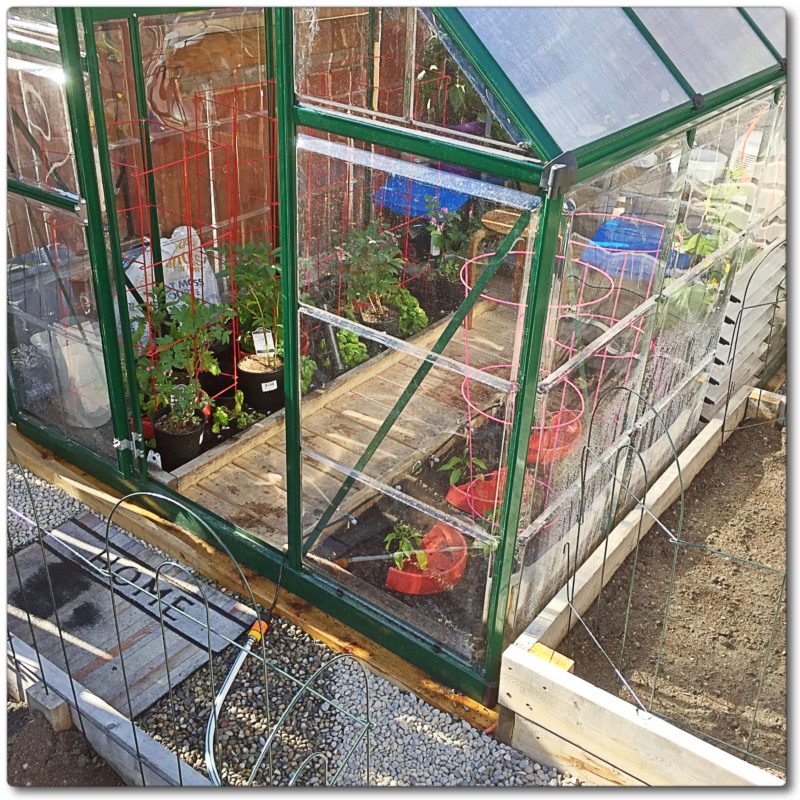 Though the greenhouse isn't great at keeping the heat in at night (it generally drops to the ambient temperature, unless we put a heater on), it is fabulous at heating up in the sun! The tomatoes and peppers seem to love it – so long as we don't go too far above 30ºC (wherein we turn on a fan). Although, the potted cuke came down with some serious mildew (due to all the trapped moisture at night) and died, the seeded cuke has taken over for it. Plus, we found some more clearance basil. 😉
Two months later: one of the tomato plants is almost as tall as me now, and we've enjoyed ripe tomatoes and peppers *before* August (which *never* happened when we grew them "outdoors")… Nothing has been damaged by wind or hail… and the cukes we enjoyed before our plant died were amazing. Needless to say, it's been a tasty investment.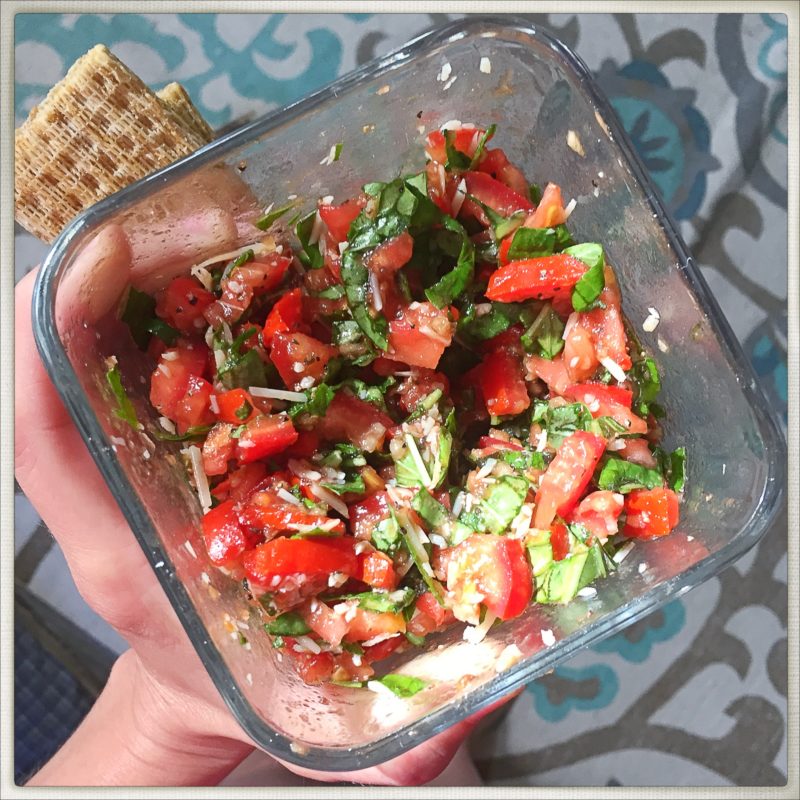 Bruschetta
Peel and press a couple cloves of garlic. Add a dash of salt and pepper. Smoosh the seasonings right into the garlic with a fork (I don't know why it makes it so much tastier, but it seems to). Add a glug or two of olive oil (we used some amazing basil infused olive oil we picked up in San Francisco) and a dash of balsamic vinegar, and mix it well. While it sits and blends, chop 3-4 Roma tomatoes into quarters lengthwise. Remove the seeds and chop into small pieces. Then chop a handful of fresh basil leaves into thin ribbons. Blend the tomatoes and basil into your olive oil mix, adding a generous dose of grated Parmesan cheese… and voilà! Although, I'd let it sit for at least 15 minutes to blend the flavours… if you can wait that long. 😉 I also recommend the pesto…
So, yeah. Greenhouse = greatness! Although, I need to find somewhere else to grow my sunflowers now…. I really do miss them. I cannot wait to see how long we can extend our growing season with the help of a little space heater! Overall, I would highly recommend the experience. However, if you can't manage a greenhouse for yourself, why not find a delicious Farmer's Market and a quiet park and make do? 😉 Anyhow. Just wanted to share. Hope y'all are having a tasty summer! =)