A few months ago, my friend Erin encouraged me to enter a contest she was hosting on her blog Tech Gadgets Canada. Long story short, I won the contest. As such, I received a $50 off coupon code to publish my very own book with Blurb (you can enter "Blurb" in the search engine on her blog and check it out if you want). Awesomesauce! Thanks, Erin!!! And thanks, Blurb!!! 😉 (You can also check out Erin's other passion, jewelry making, by visiting her fabulous store on Etsy!)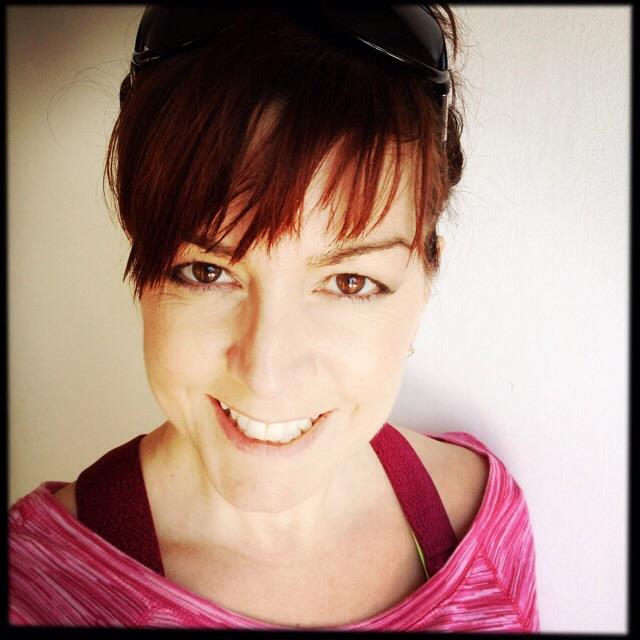 So, I get to make my very own book, huh? I've never done that before… Yay!!!
But what kind of book should it be??? A book of precious family photos, like our fun "fambily" vacations and such? Or a KateWares "look book", highlighting some of my favourite creations, that I could display at craft fairs to show people all of the crafty things I can do? Or maybe it should be that collection of erotica I've been slowly compiling? Hmmmm… Naturally, life being what it is, I completely procrastinated about actually putting this book together until just days before the coupon was due to expire. Crap. What do I do now?
Well, lucky for me, I have tens of thousands of my own photos at my fingertips, so I started browsing through them. It slowly occurred to me that one of my very favourite things in the whole world is nature & gardening… I take hundreds of photos outside, every spring/summer/fall… and I love recording the progress of both of my gardens (vegetable & flower) in my journal… which I had just filled up/finished last autumn… and I couldn't find a similar, suitable replacement… so…
A new garden journal it is, then!!!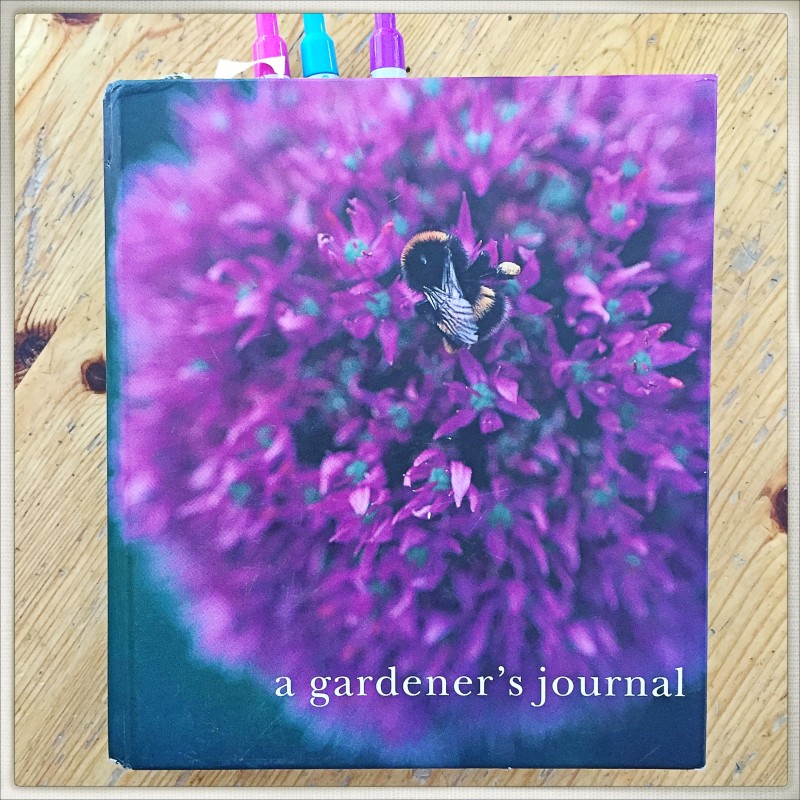 You see, when we first moved into our current home, my friend Kym gifted us this gorgeous gardening journal. It was like nothing I had ever seen before, with hundreds of beautiful and inspirational photographs and glossy illustrations… Over the years, I have recorded pages and pages of data about when things get planted, start budding and/or blooming, what the names of my various plants are, what variety and/or "brand" of seeds/plants I've tried – and how successful/not they were, not to mention "maps" of the different garden beds, and even unusual garden visitors!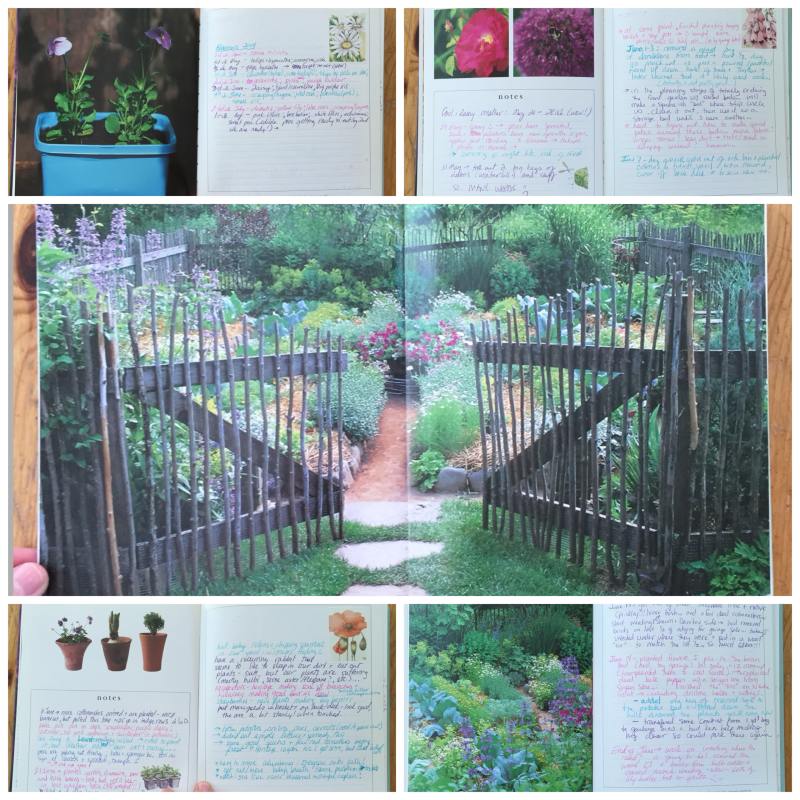 It isn't perfect, though. It had come with dates on the pages… and as I'm not one to stick to a strict schedule… I had whited them out, and covered up the mess with flower stickers. Still… I absolutely LOVE that journal!!! And I was SOOOO sad last winter when, after MUCH searching, I could not find anything remotely similar to take its place. Making my own version seemed like a better idea each time I imagined it, so I started collecting copies of my favourite garden-esque photos in a single folder on my hard drive.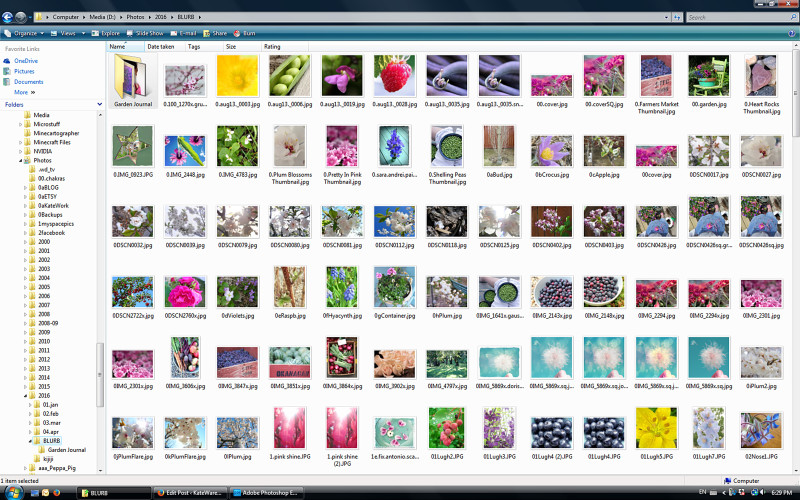 In no time at all, I had over 450 files to choose from! And that was only going back through the last 4 or 5 years! Yes, some were variations on a theme… but still. It was a great visual feast!!!
Next, I downloaded and opened up Blurb's bookwright app and checked out the process for making this book. I chose my "gratitude postcard" photo of the dragonfly macro for the front of the cover… and a coordinating photo of similarly toned mums for the back of the cover… and then I uploaded a photograph or two… Not too shabby! Or difficult. BUT NOTE: The one HUGE thing I learned very early on (thank goodness), is that Blurb requires VERY high resolution images for the uploads… so if you decide to make your own book, make sure you test out your images early on to ensure a proper fit.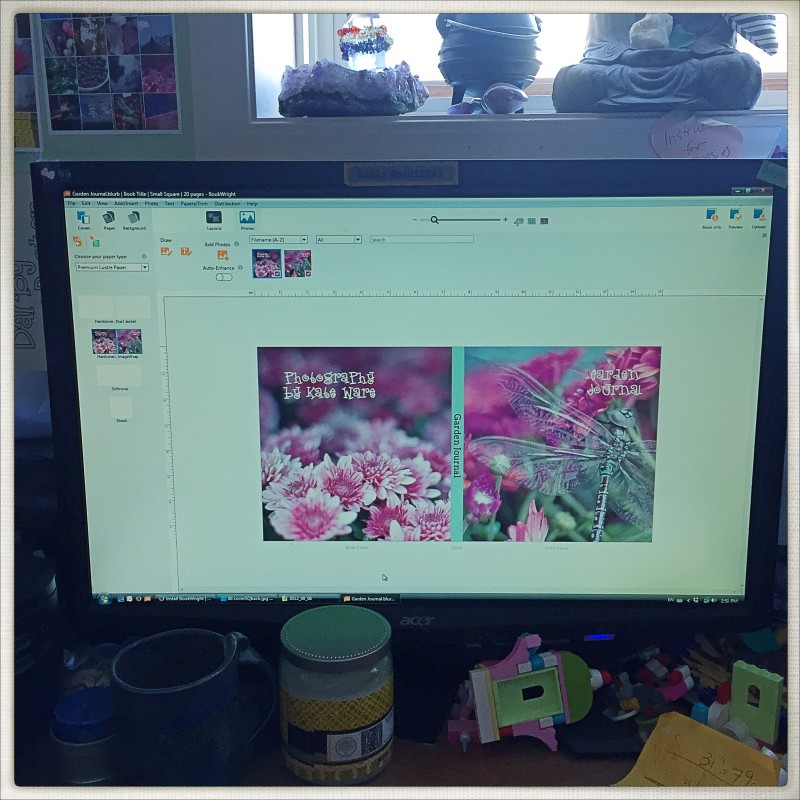 Unfortunately, there were no "insert photo here" pages that I wanted to use, so I decided to go back and construct a couple of templates on Adobe Photoshop Elements 9 – leaving lots of room <lines> to record data around smaller <to be inserted> images.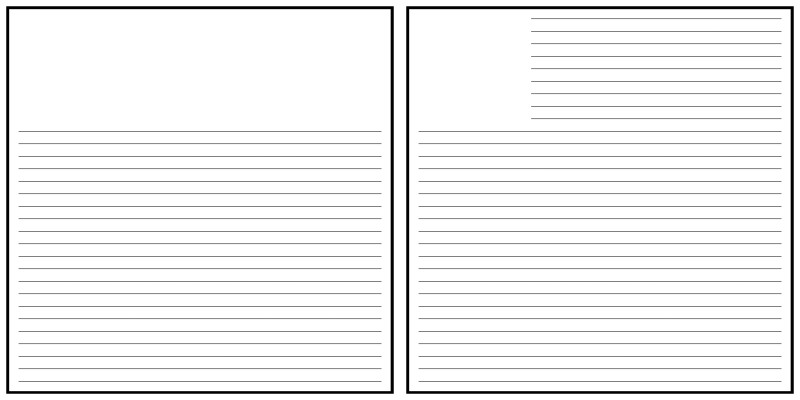 Then, I simply had to add my various photos into the spaces I had left behind… arrange the pages in the order I wished… and then upload them onto the app. I decided I liked the look of having one whole-page image every so often, so I added those too. And I rotated/flipped the templates so that the images wouldn't all appear in the same position on each page. In the end, the pages looked something like this: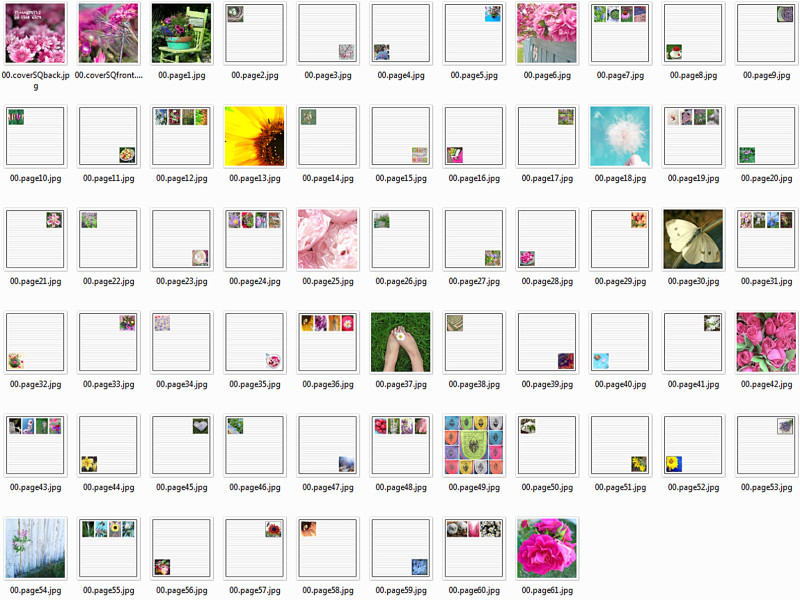 I cannot tell you just how happy seeing this collection of my cheerful images makes me. Nature is awesome. <3
Now, this whole process took a total of about 8-10 hours to complete. By the time I had created and uploaded up to page 61, I was exhausted!!! Plus, I had used most of my favourite images already. (At least I think I had – it was getting harder and harder to remember exactly which images I had already inserted into the templates.) But my book was very thin compared to the original journal, so I wanted to add more content.
I could have gone back into my files and hunted down more images, from further back in my files… Or I could have removed the "4-at-the-top" pages and changed them into more "1-in-the-corner" pages – which would extend the book by 30 pages, but it would look less dynamic… Or I could have just decided to accept a thinner journal – but I really, really didn't like that option… In the end, the exhaustion (and life busy-ness) won, and I decided the easiest and best course of action was to simply repeat the pages I had already built. I mean, if it took me over 10 years to fill up the first journal, it would probably be at least 5 years until I got to those repeated pages anyways… =P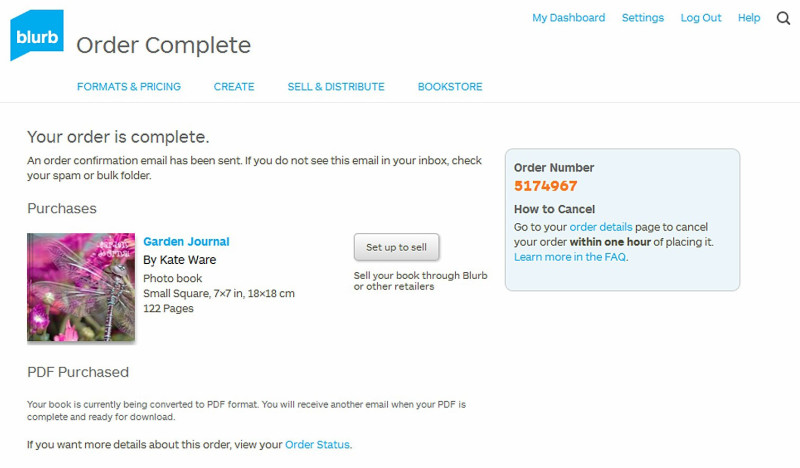 So, I added a second copy of the 61 pages… double checked the whole project for flow… and went ahead with publishing. Ultimately, a 122-page, hard cover photo book came to bill out at around $67 CDN (including everything: layout, publishing, shipping). But after the coupon I had won, it only cost me around $17 CDN, which I would *totally* pay for an awesome garden journal!!! Not only that, but it arrived within a week of ordering!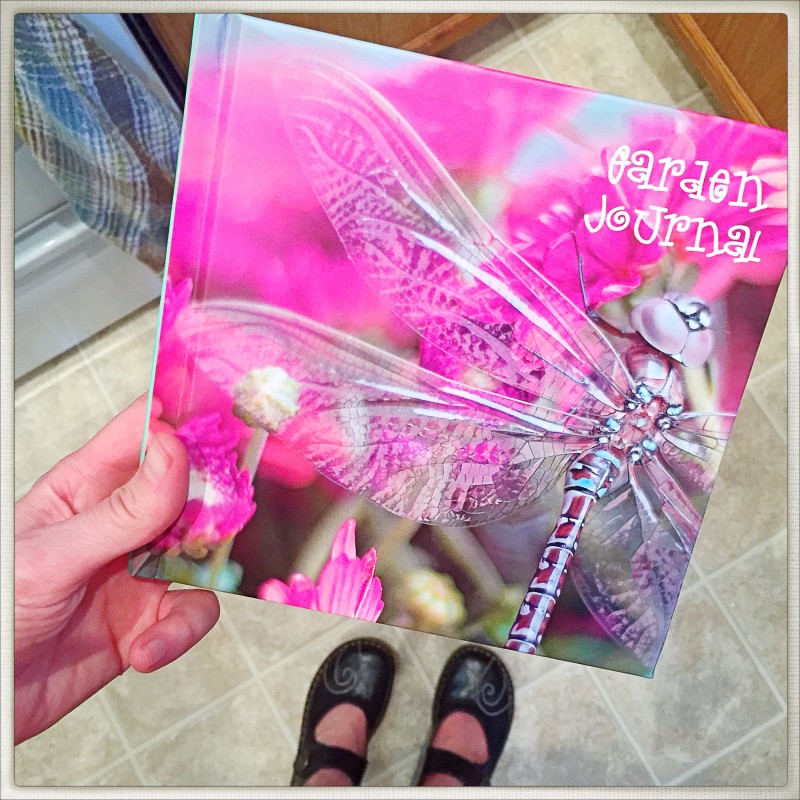 And… IT. IS. AMAZING!!!!!!!!!!!!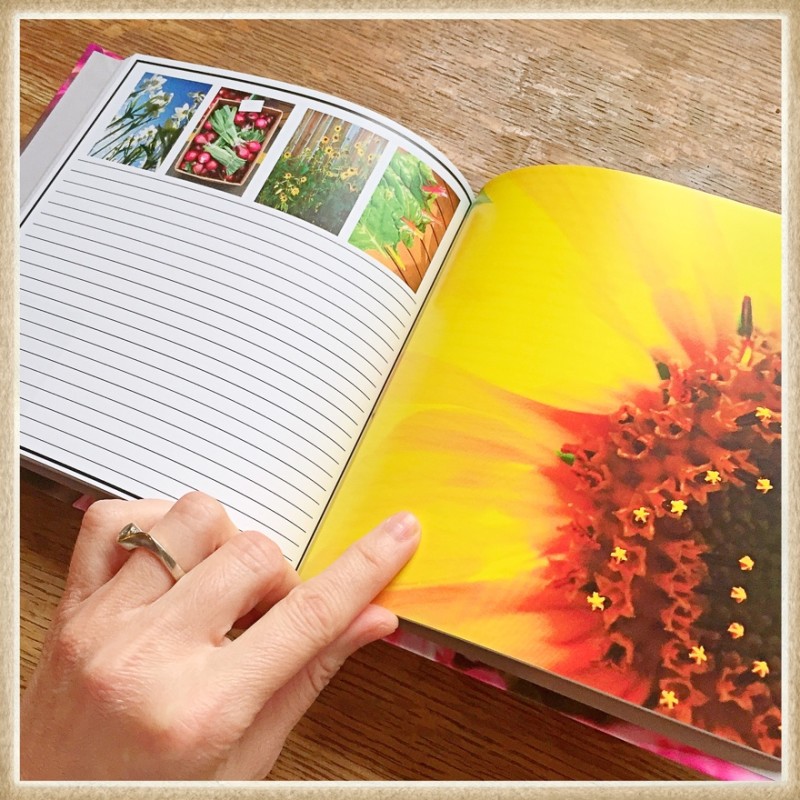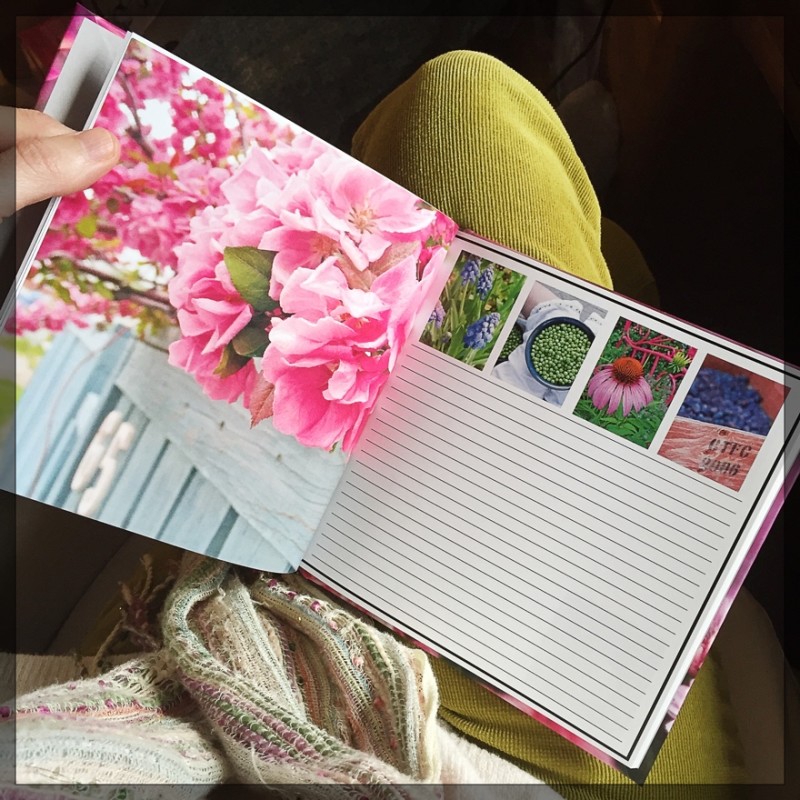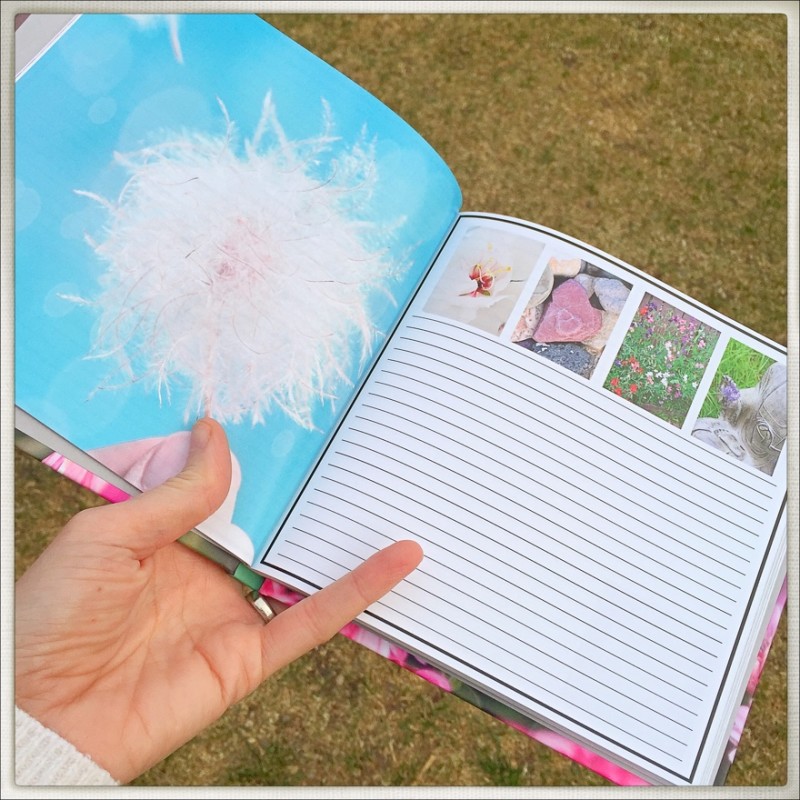 So many vibrant and uplifting photographs…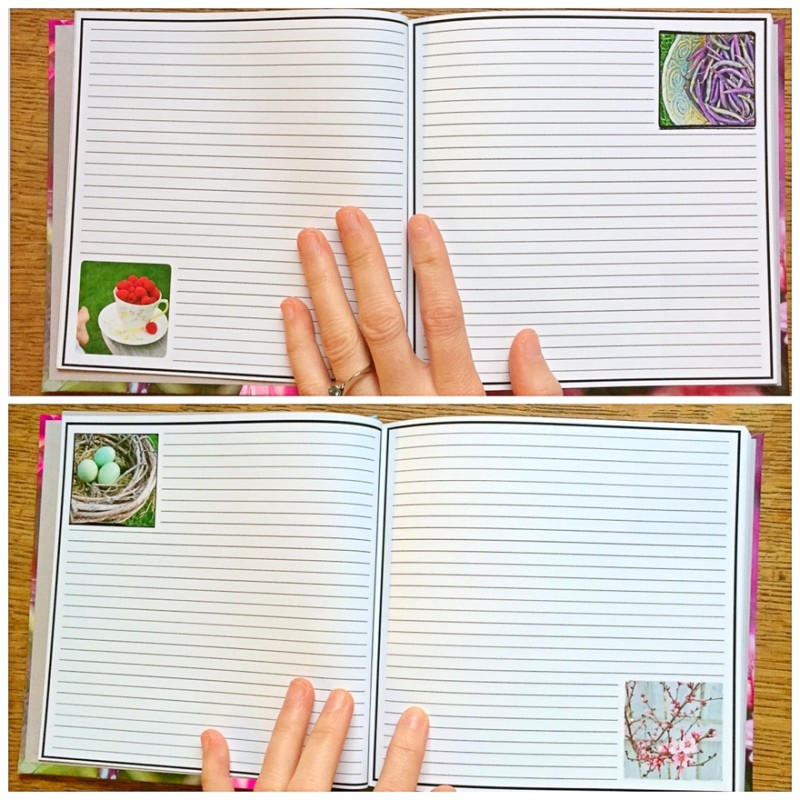 … and tons of room to record all of my new data!
I am SO in love with this thing!!! Maybe it's my ego talking, but it just makes me ridiculously happy!!! So much so, that I want to share it with the world!!!!! Well, at least other people who might also appreciate such a thing. 😉 But at $67 a pop, it's not likely that will happen any time soon…
UPDATE: I may did look into alternate versions (softcover, magazine format, discounts for bulk printing – I'm even considering self-printing pages for a small 3-ring binder, thought that won't be nearly as impressive) AND alternative publishers… (And as of Oct 2016, I had printed a third edition! See the GALLERY tab for details.)

So. There it is. I'm a published author (har har). Granted, there are very few words in my first book (come to think of it, I don't think there are any words inside of it at all… yet). But you've got to start somewhere, right? Next step, figuring out how to make it reasonably priced!
How about you? Have you ever self-published? How did it go? Do you have any suggestions for how to make it less expensive, or do you find that the high price is worth it for getting exactly what you want? PLEASE, any information would be helpful!!!
Anyhow. Just thought I'd share. Thanks again to both Erin and Blurb. Time to hit the dirt. And then joyfully write all about it! Happy gardening, y'all!
Save
Save
Save
Save